Women & Finance Series – Part 1: Women and Super
We are pleased to be able to bring you our blog series focusing on money tips for women.
We hope you enjoy the articles over the next coming days and get in touch on (03) 9913 0590 or milton@gmpfin.com.au if you would like to discuss any of the issues raised.
Regards
Milton
Women and Super – The Facts
Did you know that around 90 per cent of women end up with not enough superannuation savings to fund the lifestyle they want in retirement? In fact, the average superannuation account balance for women when they retire is around $90,000 less than the average for men.
There are a number of reasons why this is the case. For example, many women take time out of the workforce to have children or care for family members, and they are also more likely to be in part-time or low-paid employment.
No matter what the reason is, there's no doubt women have a much bigger task when it comes to saving for their retirement. This is why it's important all women take simple steps to help boost their super savings.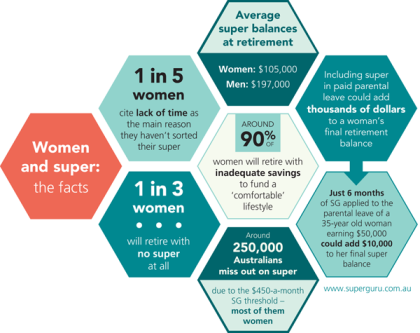 Taking sixty minutes today to sort to your super could add thousands to your retirement savings.
Here are three simple steps you can take:
Check your super savings
Get to know your super better by checking your balance regularly, as well as the insurance and investment options you have to make sure they are the best fit for your circumstances.
Simplify your super by rolling all your super accounts into one
Consolidating your accounts and/or tracking down your lost or unclaimed super could save you thousands of dollars in unnecessary super fund administration fees, which over time can make a massive difference to your retirement savings
Plan to save more
Even small additional contributions to your super over time can help boost your retirement savings by thousands of dollars. These extra contributions can help you catch up on the savings time you missed, for example when you take time out to have a baby.
For a complimentary one hour appointment to discuss how we could help you boost your retirement savings
contact Milton Wigdorowitz of GMP Financial:
Website: www.gmpfinancial.com.au/contact-us
Phone: 03 9913 0590 or 0414 829 414
Email: milton@gmpfin.com.au
Facebook: https://www.facebook.com/gmpfinancial
LinkedIn: www.linkedin.com/in/miltonwigdorowitz
Twitter: twitter.com/gmpfinancial
Reproduced with permission of The Association of Superannuation Funds of Australia Limited. http://www.superguru.com.au
Important note: This provides general information and hasn't taken your circumstances into account.  It's important to consider your particular circumstances before deciding what's right for you. Although the information is from sources considered reliable, we do not guarantee that it is accurate or complete. You should not rely upon it and should seek qualified advice before making any investment decision. Except where liability under any statute cannot be excluded, we do not accept any liability (whether under contract, tort or otherwise) for any resulting loss or damage of the reader or any other person.